A lot of the landlords we talk to are afraid their tenants will stop paying rent. This is an understandable concern; you have your own mortgage payments and other financial obligations to meet, and consistent rental income is important to your cash flow and your long term ROI.
If you want to ensure you collect rent on time every month from your tenants, you need to pay attention to tenant screening and have a consistent rent collection policy in place. If you find there's a tenant who simply refuses to pay, you'll need to be prepared to evict.
When it comes to rent collection, we're in a bit of an unprecedented time in 2020. As the COVID-19 pandemic continues to wreak havoc on the economy, many states, including California, have eviction moratoriums that are still in place. It's more important than ever, therefore, to communicate with your tenants and work out whatever you can to get the rent coming in or a payment plan in place.
Screen Tenants with Rental Payments in Mind
Your tenant screening process must be thorough and rigorous, and it should cover everything from credit checks to income verification and criminal background investigations. It's a good idea to be especially focused on rental payments. You have to be intentional about seeking a tenant who has a history of paying rent on time.
Talk to current and former landlords to find out how the applicant performed in the past. Ask if rent was paid on time, and if it was ever late, find out how quickly the tenant was able to catch up. Always conduct a nationwide eviction check to be sure your applicant hasn't been evicted previously for unpaid rent.
If you're thorough before you sign a lease, you'll have a better chance of collecting rent seamlessly once that tenant is placed in your home.
Include Your Rent Collection Policy in the Lease Agreement
Your rent collection policy must be clear, fair, and consistently enforced. The lease agreement should state how much rent is due, when it is due, and how it is to be paid. The lease also needs to reflect any consequences for late rent, such as late fees. If there's a grace period, make sure you include that as well.
If a tenant is late paying rent, follow the established practices in your rent collection policy. Charge the late fees, follow up with the tenant, and then post a Three Day Notice to Pay or Vacate if you don't get a response.
Make sure you're consistent with all of your tenants. If you waive a late fee for one tenant but not another, you could find yourself lost in a fair housing claim. Collect the late fee from every tenant every time. It will set a standard and keep you out of trouble.
Taking Steps towards Eviction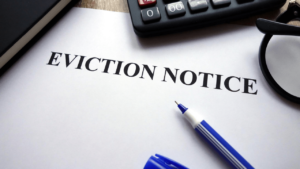 Evicting a tenant is never fun and it definitely doesn't earn you any money on your investment. It's always better to keep your property occupied. However, if your tenant is not paying rent despite your calls and messages, and they refuse to work with you, it's important to remove that tenant and replace him or her with a tenant who does pay rent reliably.
When you serve a Three Day Notice, you're letting your tenant know that they have three days to pay, or you're beginning the formal eviction process. Usually, your rent will show up before the end of those three days.
If it doesn't, we recommend you contact a property manager or an experienced eviction attorney to help you through the court process. The court process in California is complicated, and even a minor mistake can result in your eviction being tossed out. You'll have to start over, and that adds to your cost and your stress.
If you have any questions about rent collection, please contact us at Parks Property Management. We'd be happy to serve as a resource for any of your Brentwood property management needs.